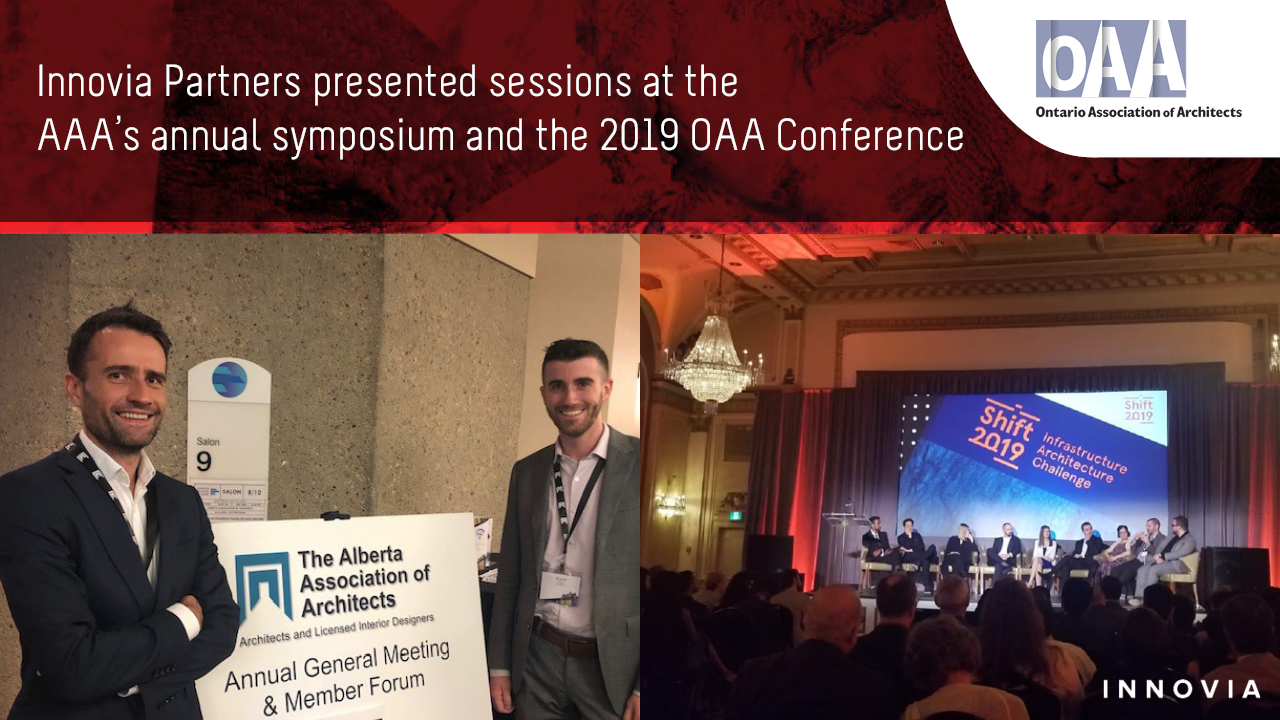 02 Jul

Innovia Partners presented sessions at the AAA's annual symposium and the 2019 OAA Conference

Our team had a busy and exciting May speaking with leaders of architectural practices across Canada on a variety of business topics. In collaboration with various associations, we curated our seminars based on the key challenges we see amongst our clients.
Alberta Association of Architects (AAA)
2019 AGM + Professional Development Symposium | Edmonton, Alberta
On behalf of the AAA, John McKenna presented on developing a strong Business Strategy and using Branding as a Differentiator, while Russell Pollard provided Innovia's insights on effective Talent Management. We were a key contributor for the symposium, providing half of the sessions with 70-90 practice leaders in each.
Throughout the seminars, we explored the key business considerations for architecture firms:
Talent Management
Principles for talent management​
Organizational structure​
Practice culture and learning​
Compensation management​
Benchmarks​
Succession planning
Business Strategy
Why architecture firms are different?
What is business strategy?
Strategy in practice
Brand as a Differentiator
What is brand?
What are true differentiators?
Creating brand
Using brand
Ontario Association of Architects' (OAA)
2019 OAA Conference | Quebec City, Quebec
For the OAA, Basima Roshan led a productive session on building Financial Management systems and Rowley Mossop highlighted the strategic value of proactive Succession Planning. We have a longstanding relationship with the OAA over the past two years and are a trusted presenter on architectural business topics for its events.
Our approach to these business challenges involved the following questions:
Financial Management
Why financial management?
What is involved in financial management?
How to measure financial performance?
Succession Planning
How can practices use succession strategically?
Who will be the best owners?
What are the top financial considerations?
What is one proven framework for succession planning?
"The presentations from Innovia were extremely valuable for our company. Well done!" – Attendee of the AAA Symposium
Over the upcoming months, we will be posting articles on our website diving into these business themes. We commend the AAA and the OAA for providing a platform for business topics and we thank them for including us in the discussion. This was a great month to conclude Innovia's spring lecture season and we are looking forward to our continued engagement with the architectural and creative community.
_
Innovia Partners works with creative practices across Canada and in London, England. Our team's experiences and range of services inform our tailored cohesive approach for our clients.
_