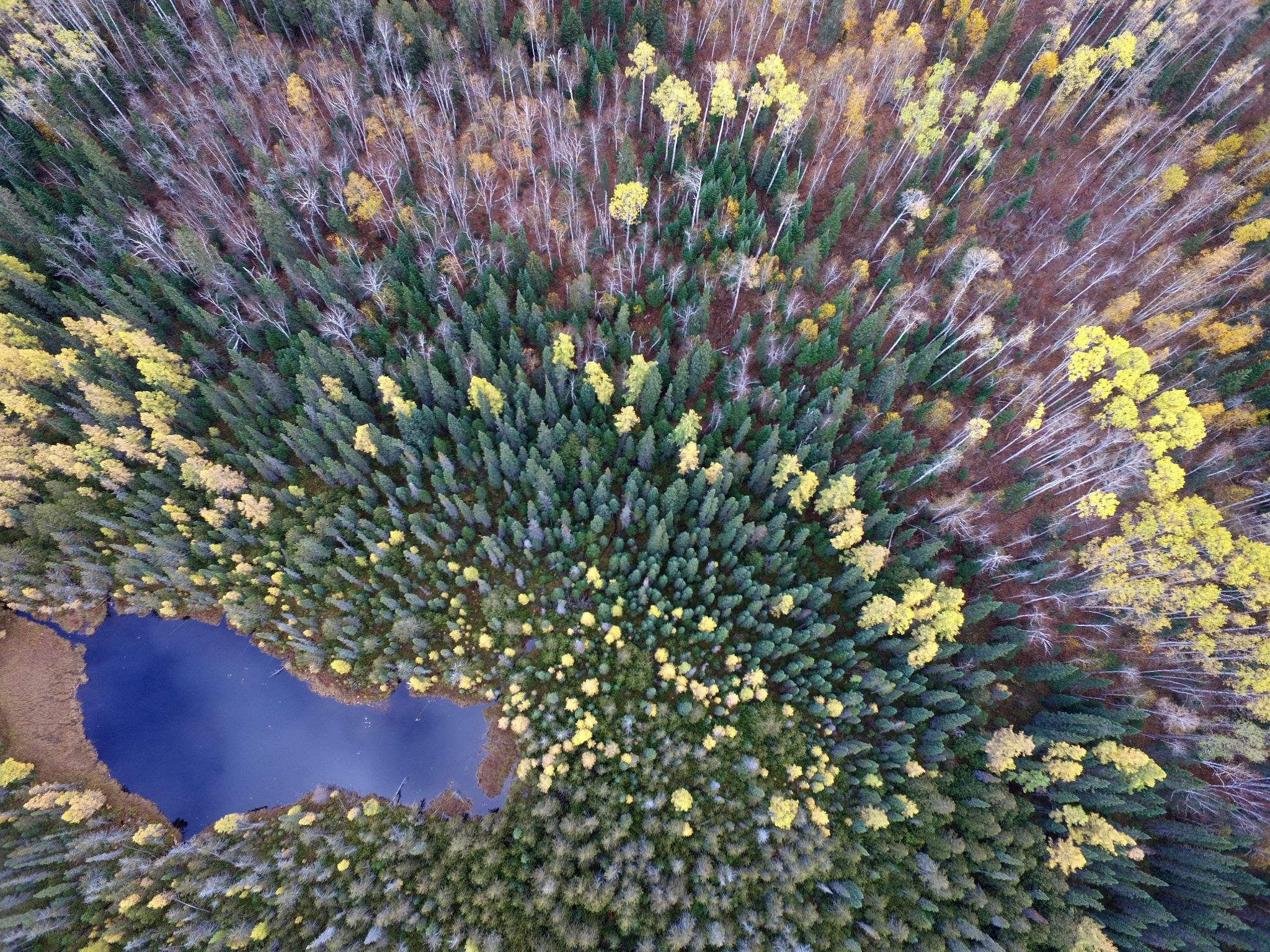 12 May

Element5 & The Mass Timber Revolution

Last November and December, Innovia conducted interviews with leading architects (MJMA and BNKC) and engineers (RJC) working at the forefront of mass timber in Canada. This interview rounds out our three-part profile series by bringing you a conversation with the founder of one of the country's most exciting young firms: Element5.

Innovia's founder and principal, Rowley Mossop, sat down virtually with Patrick Chouinard to hear first-hand how the firm is helping to spur an industry-wide shift towards sustainable — and affordable — mass timber solutions.

Can you tell me about the original insights that led you to start Element5? 

Oh [chuckle], that goes way back. I was in the log home industry for about five years, working for a small company in Northern Ontario that I thought had a strong business model. They milled logs exclusively for the homes they sold and provided what they called a complete weather-tight-shell package, a prefabricated structure that included the structure of the building, cladding, windows, doors, roof, soffit, fascia, shingles, and interior framing materials. I discovered CLT shortly thereafter, and it was as if a light went on. I thought to myself, "Hang on a second, if you took the integrated approach to manufacturing that's used for log homes and applied it to mass timber, you could start selling commercial buildings in urban centres."

I spent the next two years working for Structurlam, learning the mass timber business, before I joined Spring Valley Corp, a team of multidisciplinary professionals who specialize in developing architectural and building solutions. Spring Valley's operations were highly integrated — they produced all their own shop drawings, created 3D models in-house, and provided the labour to erect their structures — but they still sourced all of their materials from other manufacturers. I realized during my time with these companies that the real opportunity was to combine the fabrication and assembly services of a manufacturer with cost consulting, design, and engineering. That's when I founded Element5.

Have you come across firms in Europe or the U.S. that are taking the same integrated approach to manufacturing? 

We're certainly not the only mass timber manufacturer out there; there are quite a few in North America at the moment. That said, we're taking steps to differentiate ourselves within the industry. Most manufacturers, for example, focus exclusively on the production of structural building components, like CLT or NLT. Our team embraces a different approach by extending the concept of a prefabricated log home to mass timber. We're in the process of developing a complete weather-tight-shell package that integrates a prefabricated envelope panel into the overall structural design of commercial buildings. Other than Katerra, Element5 is the only facility I'm aware of that is investing resources and research into holistic mass timber solutions.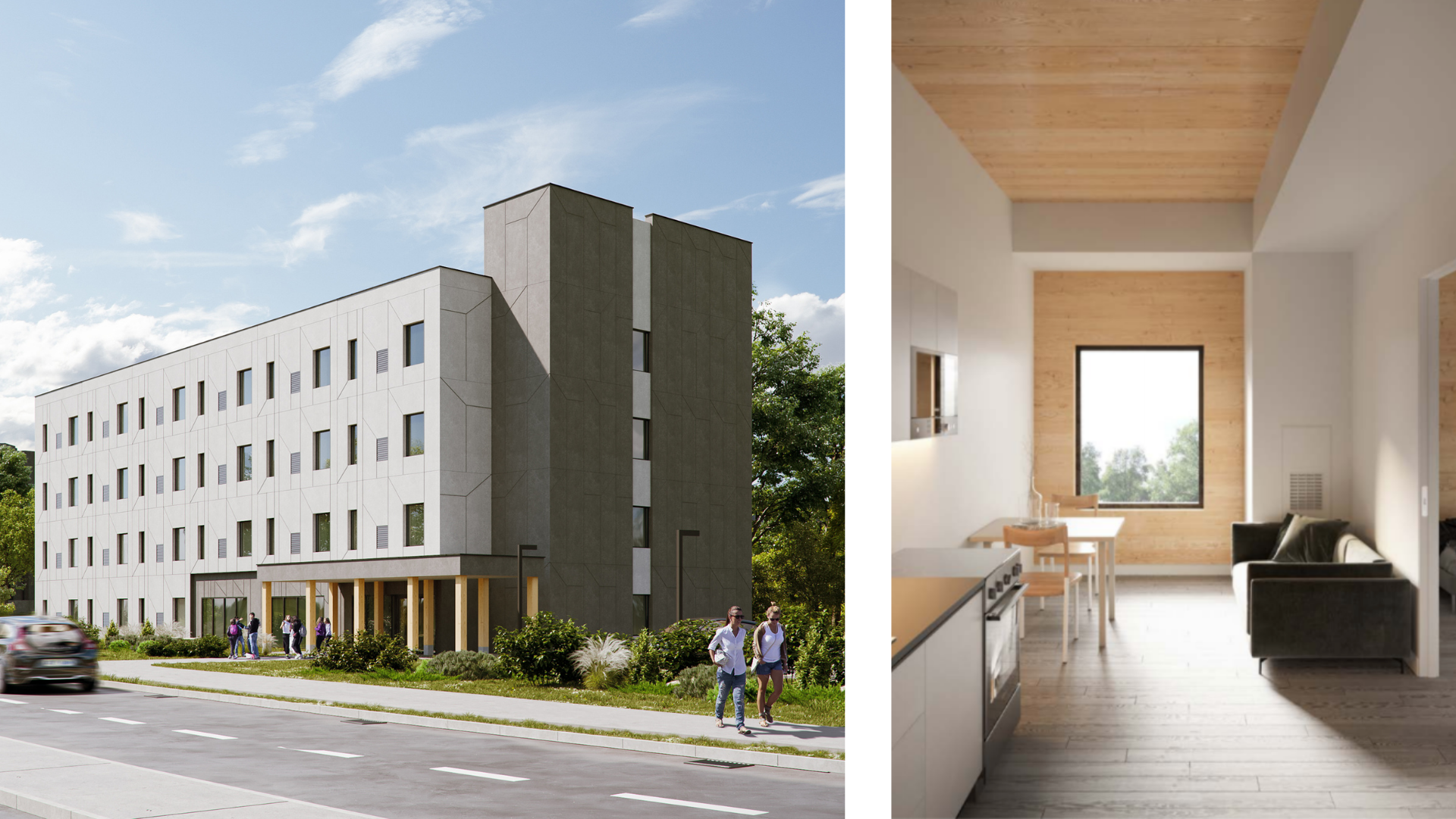 Renderings of the YWCA mass timber housing development in Kitchener, Ontario, a collaboration between Element5 and Edge Architects. Renderings by Edge Architects. Courtesy Element5.
Element5 just went public with a new affordable housing development for the YWCA in Kitchener that's funded by the federal government's Rapid Housing Initiative. With this project, you chose to extend your integrated approach even further to bring in consultants to work on planning and interior finishes as well, correct? 
Yes, that is correct. For context, every major city in North America is currently experiencing a housing crisis, including municipalities across Ontario. As an industry, we began to wonder whether mass timber homes, which are quicker to build, more cost effective, and create healthier environments, could be a significant part of the solution. Matt Bolen, Principal at Edge Architects, and I decided to assemble a consortium of like-minded individuals to approach the YWCA housing opportunity and produce a bid proposal that, quite frankly, we weren't sure was going to be entirely competitive. There's always been a perception that building with mass timber is expensive. That said, we were pleased to discover that we underpriced the competition, proving that mass timber can be a viable option for affordable housing!
Following the announcement of the YWCA project, we were planning to promote the scheme to cities across Southern Ontario to raise awareness for timber as an affordable alternative. Before we could even produce any marketing materials, we had 10-12 affordable housing opportunities in our pipeline. We're very grateful to say it's only picked up from there.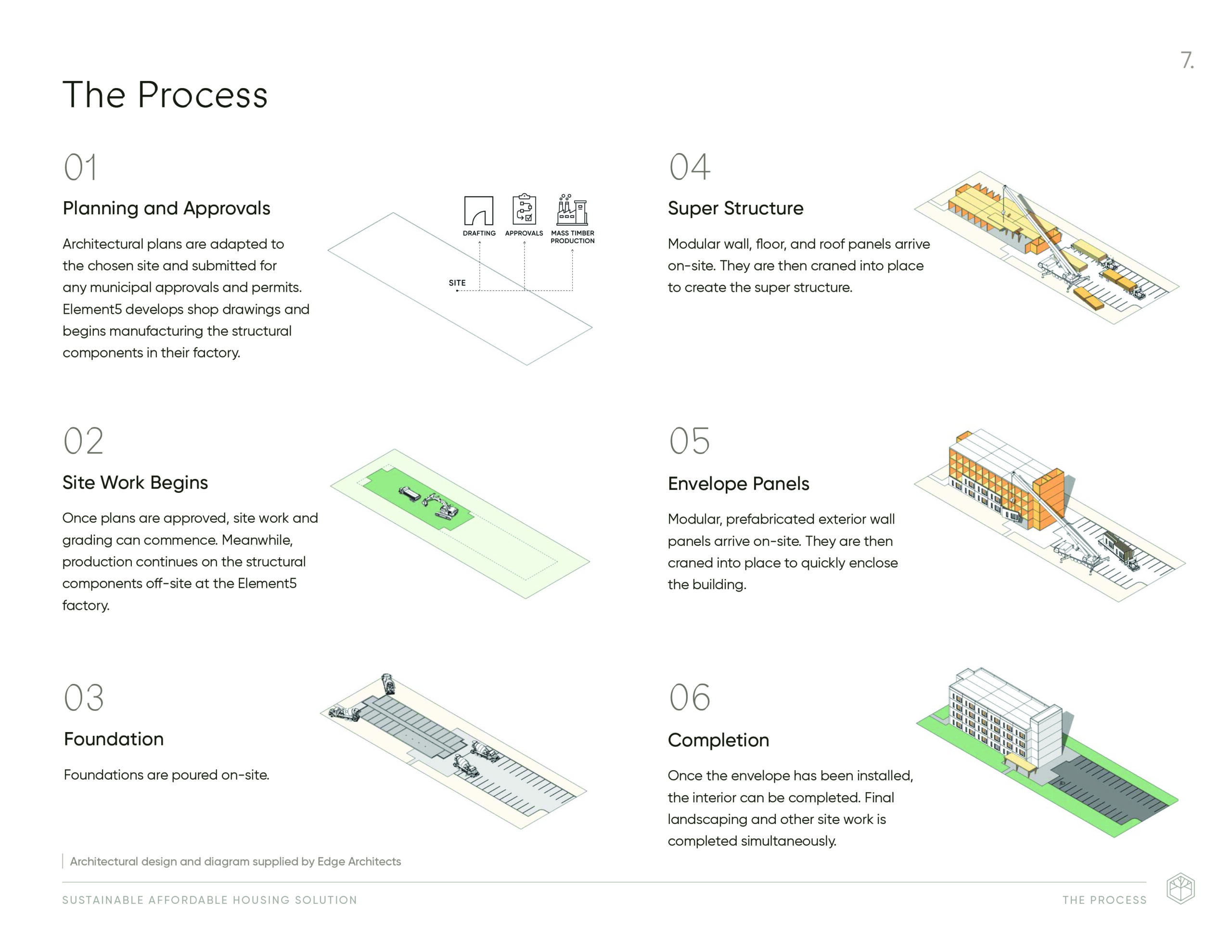 A six-step process for the design, fabrication, and assembly of Element5's sustainable and affordable housing solution. Diagram courtesy of Edge Architects.
Price definitely may have been a consideration, but why else do you think your bid was selected? What was it about the proposal beyond the bottom line that was appealing?
When it comes to affordable housing, I think the top priority will always be cost. Beyond that, I think the sustainability and wellness benefits that come with wood are very appealing. Our design exposes the underside of the CLT, so every unit in the building has an exposed wood ceiling. I also think we won them over with the quality and durability of the overall product. The life expectancy of one of our affordable housing developments is more than 100 years. These are really solid buildings.
What work did your team undertake to establish the lifespan of the products as well as to model the cost of construction and operations? 
Ontario has a rich history of building with heavy timber, so there are lots of precedents available. Between 1850-1920, most buildings were made with wood. There are almost 150 brick-and-beam structures that are still active in downtown Toronto. New mass timber products reflect this same durability. As long as you're protecting the wood elements from exposure, these buildings will last more than 100 years.
Current fabrication and assembly technology has enabled us to project construction costs much more precisely. Our high-tech, climate-controlled facilities reduce exposure to the elements, mitigate air infiltration, and increase the accuracy with which structures are built. This results in higher-performing buildings. The advent of new types of insulation — we're fond of wood-fibre — has also had a hugely positive impact on the structural performance of the building envelope, which in turn results in lower maintenance and operation costs.
Owners will also benefit from the thermal mass properties of wood. If you've ever spent time in a log home, for example, you may have noticed it stays warmer in the winter and cooler in the summer than a conventional home. Timber buildings take more energy to heat and cool, but once they've reached a certain temperature they'll maintain it for long periods of time, which plays a significant role in lowering the overall operating costs. You're not seeing the same peaks and troughs that you would in a conventionally-constructed building.
Is there anything else that you'd like to share about the YWCA project? 
YWCA has been a fantastic opportunity to make a positive contribution to the environment and the community. It just doesn't get any better than that. The motivation for what we're doing and what we're trying to become, of course it hinges on great business opportunities. But the true bonus is that the work actually gives back something meaningful to society and in a large-scale way that makes a real impact with respect to sustainability and affordability.   
It's so exciting because Ontario is poised to capitalize on the industry and become a leader in the mass timber revolution. Element5 is vertically-integrated, and we source all of our materials from Ontario forests. Through strategic partnerships, we're able to control our supply chain from the forest floor through to the finished product. Developers, companies, and institutions across the country are responding to mass timber in a big way. Throughout the province, there are 20-25 large timber buildings in various stages of design, development, or construction. Almost every university and college in Ontario is building with wood. Our team at Element5 feels fortunate to be in a position to take on a leadership role within the industry and make positive contributions, like the YWCA project, in the process.
With my Innovia clients in mind, what would you say to them about the opportunities that lay ahead in mass timber? 
The opportunities and benefits of mass timber are abundant, so it depends on who your clients are. If we're speaking with developers, the conversation is almost always about return on investment. The beauty of mass timber is that we're able to prefabricate buildings in a highly-controlled manufacturing facility, which means we can manage the conditions, control the schedule, and get them to market faster with less labour. This guarantees costs and results in savings. Furthermore, tenants are willing to pay a premium to live, work, and play in these biophilic buildings, meaning increased revenues for owners. In the end, developers will be the major investors in mass timber.
If we're speaking to someone for whom sustainability is a top priority, the primary benefit of mass timber is carbon sequestration — the leveraging of our forest's ability to remove carbon dioxide from the atmosphere and store the remaining carbon in the form of timber buildings. The world is desperate for solutions to the CO2 crisis; mass timber presents a way forward. By contrast, the concrete and steel industries are responsible for nearly 12-14% of carbon emissions.
The final group of stakeholders we typically speak with are occupants of mass timber buildings. To my mind, the innate human need and desire to connect with our environments and each other is the driving force behind the industry. As cities densify and we continue to build with concrete and steel, humans are increasingly removed from our natural environment. By building with wood, we're able to bring the natural environment into the buildings where we live, work, and educate our children. It's like moving the mountain to Mohammed: if you can't be surrounded by nature, bring nature into the building.
With mass timber, there's something positive for everybody. There are no losers, only winners. That's what I like about it.
CLT offers a solution that takes advantage of off-site manufacturing. Fabrication and site preparation can occur concurrently, which speeds up the construction process. Once site work is complete, panels are delivered according to a detailed logistics plan and arrive on site in sequential order, ready for rapid assembly. Courtesy Element5. 
It's not often that I get to have conversations that are so profoundly optimistic. Element5 has brought site planning, architecture, engineering, manufacturing, and construction together as a means of increasing efficiencies and collapsing silos. What can other firms and practices learn from your integrated approach to the built environment?
When I first started Element5, I thought we would have access to all of Ontario's forests and that production would be simple. In reality, it was a difficult process. The wood industry in Ontario is geared towards pumping out dimensional materials that are kiln-dried to 18% moisture content. CLT production, on the other hand, requires wood with a moisture content of 12%. Furthermore, because CLT panels are 16 meters long and you can't buy 2 x 6s in those lengths, you have to find a fabricator who can finger-joint them. As it turns out, there were no mills in Ontario that could provide us with components in a format that was conducive to CLT. We ended up investing millions of dollars in equipment to do it ourselves, which we didn't initially anticipate.
The other challenge we faced came from launching a startup within an emerging industry. In 2015, mass timber was still in its infancy in Ontario; very few architects and engineers knew how to design with it. Before we could even manufacture anything, we had to work hand-in-glove with our clients to oversee project design from conception through to construction. To this day, almost 90% of the buildings that are brought to us are concrete and steel structures that need to be optimized for mass timber. To facilitate this process, we had to add a breadth of design, engineering, and assembly services to complement our product offering. Very few people knew how to build with mass timber, so there was no guarantee of supply contracts unless we were also the ones performing the installation.
Sophisticated software is really what brings all of these formerly discrete operations together under one roof. BIM allows us to create models that every stakeholder can contribute to. This ensures architects, structural engineers, and mechanical consultants are all working off of a single source of information. The mass timber industry is not only revolutionizing the materials that are used in construction; it's revolutionizing the way buildings are being designed and delivered. It's a much more collaborative process when all team members are involved in the early stages of the design and development. It's also much easier — and less expensive — to solve a problem at the beginning of a project than at the end.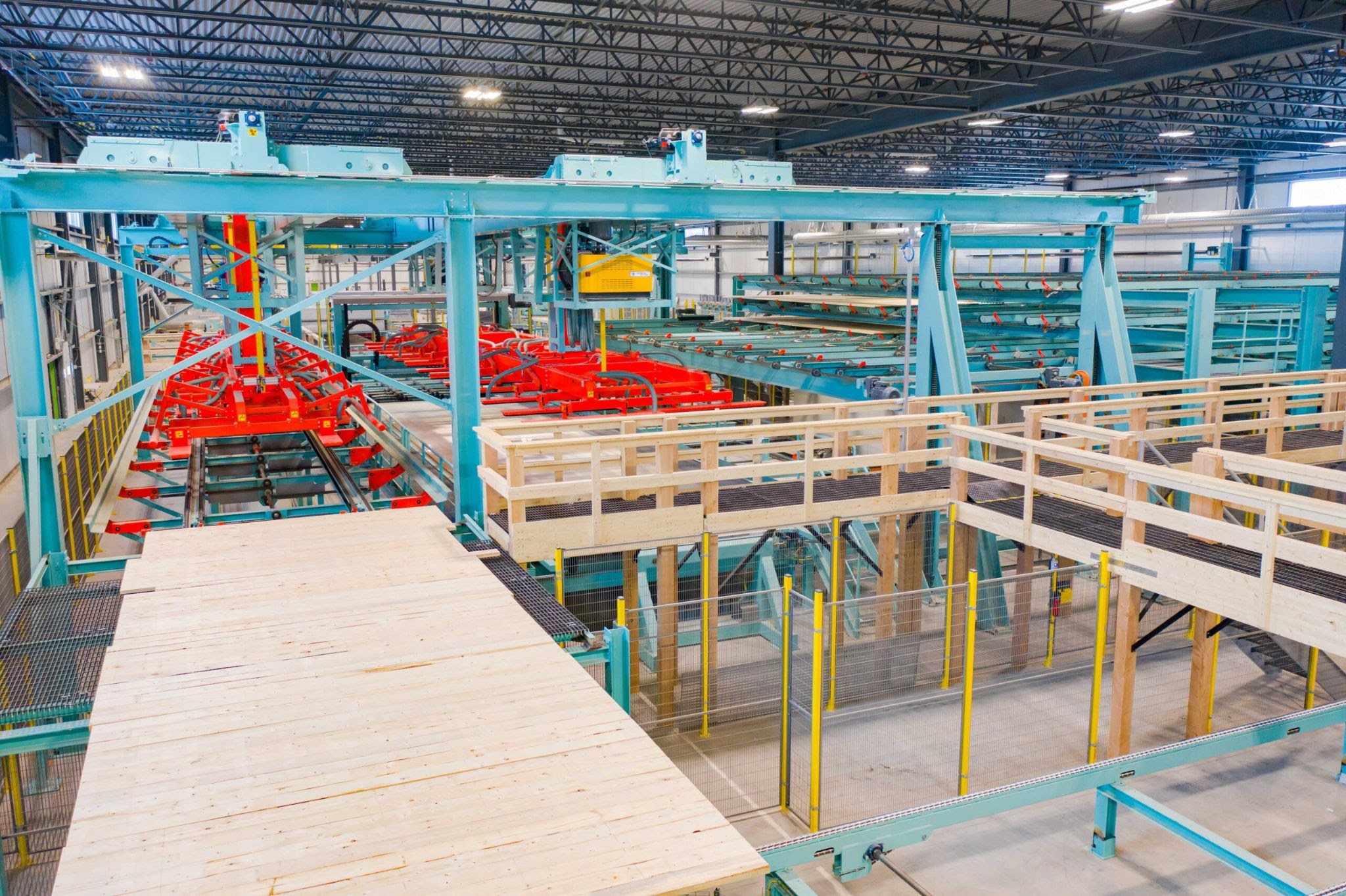 Lining up lumber for the first layer of a CLT panel in Element5's newly FSC-certified facility in St. Thomas, Ontario. Courtesy Sierra Construction.
What you're describing happens at the beginning of every emerging industry, particularly manufacturing. Innovators and early adopters have to invent everything — from the materials and supply chain to labour practices — and integrate previously disparate crafts and areas of expertise. The boundaries between professions will continue to erode as we manufacture larger portions of our built environments offsite, learn to employ new materials, and adapt to create a more carbon-neutral world.
Well said, Rowley. If I could have anticipated that when I started out in timber, I may not have gone ahead [chuckle], but it's all out of necessity.
I'll also add that I think we're at an important point in the evolution of our species where the world is beginning to build its cities out of plant life. People understand that when building with mass timber, the structural components will be wood. Our objective with our façade systems is to extend this notion further and use CLT as the interior layer of exterior building walls. We're also encouraging the use of wood-fibre insulation as well as cladding systems with phenolic panels. As the world evolves, it's important that we continue to find new ways to build with natural, renewable, and sustainably-harvested materials. When we learn to become more connected to the environments where we work, live, and educate ourselves, we'll become more connected with each other. There are going to be lots of benefits from the construction revolution. It's nice to be a part of something so positive.
Lead Photo: Forestlands sustainably managed by White River Forest Products, Element5's primary supplier for SPF lumber. © Craig Heinrich. Courtesy Element5.